International Festival of the Sea SMMLcon, 2001
Photos and text: Shane & Lorna Jenkins
---


August 2001, saw the International Festival of the Sea (FOTS) take place over four days. You needed all four days to see the large gathering of Royal Navy and other ships from the Standing Force Atlantic, as well as many varied sailing ships. We were lucky to see many ships coming in on the Thursday night from the deck of HMS Warrior where we were attending a wedding. The most popular ships were without doubt, the USS Winston S Churchill and HMS Illustrious - these two ships had you waiting in queues for up to four hours. We managed to get onboard Illustrious early in the morning with only a five minute queue. One of the highlights was being buzzed by a Spitfire whilst on the Rotterdam (Ahh the sound of a Merlin Engine- it's the sound of FREEDOM!!). In addition to the many ships, throughout the dockyard were many maritime, army and airforce displays as well as re-enactors showing the life of Portsmouth and it's people.
Spitfire Buzzing the Festival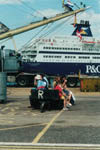 FOTS also saw the holding of a SMMLcon. A fairly laid-back affair allowing for plenty of time to see the ships. We met for lunch and dinner everyday, with large amounts of good drink and food as we got to know each other and of course the inevitable talk about ship modelling <vbg>. The SMMLcon lunch venue was a godsend after walking around the dockyard looking over all the ships, even if it was at the top end of the dockyard - you built up a nice thirst. Meeting fellow listees was a real buzz for us, those present over the weekend at FOTS were John Sutherland (who hails from New Zealand - we had to fly all the way to the UK to meet him!!), Peter & Julie Hall, Jim Baumann, Chris Langtree, Phil Gollin, John Lambert, John Rule, John Currie (who gave everyone a tour of HMS Exeter - thanks John), Robert Lockie, Duane Fowler, John & Caroline Snyder, Harold Linclon, Chris Drage and his son Adam, Mike & Lynn Dunn.
Many of us also went to a BBQ hosted by Jim Baumann, the lovely Katrin & Jim's mum at their home. More good food and drink was consumed and a great time was had with the following SMMLies: Peter & Julie Hall, Chris Langtree, John Lambert, John Rule, John Currie, Robert Lockie, Duane Fowler, John & Caroline Snyder (in fine form with their guitars), Harold Linclon, Chris Drage (in fine voice as well), Ed Brown, Andy & Vanessa Jones, Les Brown, Dave Carter (I think we've got everyone who was there?)

It was a fantastic weekend, even the deluge of rain on the Sunday didn't serve to impede anybody in their quest to crawl over as many ships as possible, take loads of photos, make notes to aid later model building - John Snyder was running around matching colour chips at one point! Getting together every day to talk about what we'd seen and done with a group of people who are just as keen as you are was an absolute BLAST!

General views of the Dockyard
USS Winston S Churchill

One of the various marching bands that entertained the attendees
| | | |
| --- | --- | --- |
| | | |
| | Some of the many craft that could be seen cruising around the dockyard. | The forlorn sight of a Type 22 laid up, before it's time. |
| | |
| --- | --- |
| | HMS Halifax |
Copyright © SMML 2002